Cosmic Rays Workshop
On Earth several alien races have incarnated: Lemurians, Nephilim, Angels, Reptoids, Pleiadians, Humans, Christ's, Zetas and Arcturians. In this workshop these races are the main topic. You are introduced to these species and their history on Earth. We have developed special energy plates that bring you in contact with the energy of the home planet of these species.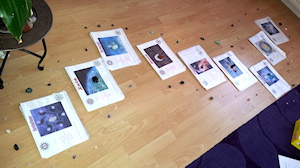 (The energy plates. Click on the photo to zoom)
With a cosmic rays workshop you can heal traumatic experiences that comes from your early incarnations on Earth. Think about the war between Angels and Demons or the time Atlantis stil existed. Maybe you still remember the ice-age or explosion of Lemuria? All these topics come along during the cosmic rays workshop.
We also give this workshop to groups which allows multiple rays being present in one room at the same time. The purpose is to create a balance between the species allowing to fix the connection with the source.
The following testimonial from Dennis, gives you a very good impression of this workshop:
'Although I had several regression therapy sessions, this session went deeper than I had ever experienced. It really worked on soul level. Old bagage was cleaned and I was able to work out an traumatic dying experience from a past live. During the session I was very conscious of the lives I lived as a different being (other than Human) and the connection these lives have with my current life. After the session I felt much lighter and more free because the final barriers on soul level were processed.'